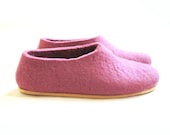 Non Slip Cork sole Felted Wool Flat Slipper Shoes Purple Lavender Pastel Pinkish. Indoor Outdoor Autumn Winter Season. In case of Cold Feet. Warm Custom Gift for Her. International shipping.
Handmade in Europe. Non Industrial ones.
Felted Wool Shoes with Cork dds an unexpected embellishment to your eco friendly outfit.
Perfect Gift to Keep Warm for Her.
Cozy Comfort Lovely...
Click Here to Visit My Etsy Shop!