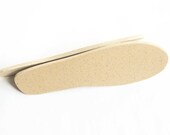 Cork Sole Korken Sohle for Felted Wool Slippers. Water proof skid resistant cork sole are durable enough for all day walking Outside or inside the House.
- Waterproof, Super Flexible, Practically No Weight, Comfortable
- Thickness 6mm or 0.2 in
- Not slippery. Water resistant. Long lasting.
▶ Adapted FOR ONLY MY FELTED SLIPPERS http://www.ekohaus.etsy.com
...
Click Here to Visit My Etsy Shop!