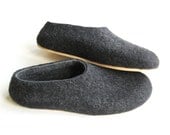 Perfect Multi Purpose Traveling Walking Shoes with Slide non slip Cork sole Hand Crafted Men manly sizes. Modern Fashion Simple Style, good for traveling, for your Friend, Father, for your Guy and even for yourself.
Masculine simple style Felted shoes for Him Mens sizes (Listing is for the ONE pair in any Mens size).
Original style adored with Cork Sole for Outdoors Indoors Anti Slip Waterproof....
Click Here to Visit My Etsy Shop!