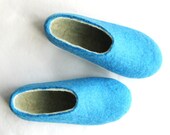 Minimalistic Urban Feminine Soft felt slippers for Her in size 8-8.5 US. Hand felted from Natural Soft Australian sheep wool.
Ready to ship - size women's US 8 or US 8.5
ADVANTAGES
● Extremely warm. Perfect solution to protecting your feet from cold and hard floors.
● SAFE TO WALK. NON-SLIP SOLES. NOT SLIPPERY. SOLES ARE COVERED WITH LATEX.
The Rubber Sole o...
Click Here to Visit My Etsy Shop!