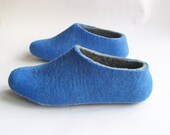 Felted slippers In case of Cold Feet. Blue Color Very Feminine and Perfect gift for Her, Mother, for Flower lovers, Grandmother, Sister, Girl, Friend and etc.
◇ High Back. So they won't slip off when walking and will warm your heel pleasantly.
◇ Easy to step into.
◇ Wider or Narrower. /Please let me know when ordering/
◇ In Case of Cold Feet
◇ Perfect...
Click Here to Visit My Etsy Shop!