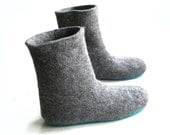 UGG style Felted Wool Booties High Tops with Aqua green Color Rubber Sole. Pure Wool Gray Charcoal Minimalist
Custom made Women sizes. High Back 18-20cm or till 7.9 inches .
Can also be made in Men's sizes. Please check here:
https://www.etsy.com/listing/121158966/mens-red-sole-felted-wool-booties-hi
Felted slipper Booties Ankle Mid Calf with fixed Rubber or Co...
Click Here to Visit My Etsy Shop!