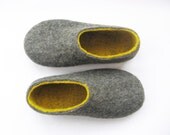 Black sole Felted Wool Shoes Slippers Yellow Grey for Indoor Outdoor Autumn Winter Season. Rubber Color Sole. In case of Cold Feet. Warm Custom Gift for Her. International shipping.
Handmade in Europe. Non Industrial ones.
BEST SELLER
★★★ LOOKING FOR a GIFT ?
GIFT CERTIFICATES are available if you have missed the deadline.
http://www.etsy.com/shop/Col...
Click Here to Visit My Etsy Shop!