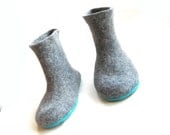 UGG style Felted Wool Booties High Tops with Non Slip Aqua green Color Rubber Sole. High Ankle Merino Wool Gray Charcoal Minimalist Custom made Women sizes.
OBAMA INAUGURATION 2013 - discount 10% off - PLEASE USE COUPON CODE: OBAMA10
Coupon valid till 23th January 2013.
Can also be made in Men's sizes.
Felted slipper Booties Ankle Mid Calf with fixed Rubber or Cork Soles. Slippers are made from Merino wool. Traditional color. If you take care of your feet and calf so these slippers will warm the...
Click Here to Visit My Etsy Shop!