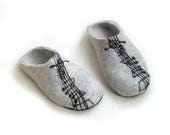 Gift ideas for music lovers ♫
Handmade Low Back Color Rubber Sole Felted wool Slippers with Musical gift for Her. For musicians, those who love music, for melody makers, who plays music, learning music, for various players, your friends musicians and etc.
Wool felted house shoes With musical notes and musical symbols.
This is the Music for your soles and feet.
BY THE WAY if you...
Click Here to Visit My Etsy Shop!