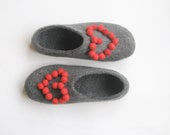 Handmade Felted Slippers Bright Feminine and Soft gift for your Mom, For your Sweetheart, for Yourself, for your Grandmother, your Sister, Girl, your Friend and etc.
Minimalistic and simple style adorned with hand felted Red Hearts and specially designed.
◇ High Back. So they won't slip off when walking and will warm your heel pleasantly.
◇ Easy to step into.
◇ Wi...
Click Here to Visit My Etsy Shop!